WELCOME to Anna Pasqualucci's SCREEN ART GALLERY! CUSTOM PAINTED WINDOW SCREENS are original works of art used to decorate windows and provide privacy from passersby. The durable screens last for years. The idea originated in Baltimore in 1913. Circa 1920-1980, thousands of colorful window screens adorned the city rowhouses. "PAINT THE TOWN WITH ANNA" and see Painted Screens at arts and crafts festivals in the Baltimore area. * * * * GO GREEN WITH A PAINTED SCREEN! * * * * ORDER A HAND-PAINTED SCREEN DESIGNED ESPECIALLY FOR YOU TODAY! * * Just $40 & up * * To learn everything you always wanted to know about painted window screens visit www.PaintedScreens.synthasite.com simply by clicking on the website link below.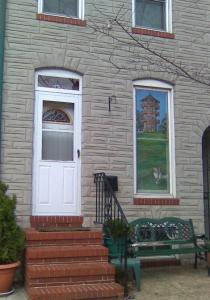 Patterson Park Pagoda
This Pagoda window screen offers a beautiful privacy to the homeowner near Patterson Park.
Comments (0) | Add a Comment