Renaissance of a Baltimore Folk Art: SCREEN PAINTING
Balimore's Unique Art History
In the glory days of the painted screen (circa 1930), over 100,000 painted screens
decorated the windows of Baltimore City row houses. Nearly 100 screen painters
would go door to door soliciting residents to have their screens painted.
See painted screens and Paint the Town.
Check out my website for places to go and things to see in 2012 and 2013.
Learn
everything you always wanted to know about screen painting.
At lot has happened since the 2009 art and craft festivals... that was a good year!
Down's Park Spring Craft Fair Saturday, April 18, 2009, 9 to 3 make a day of it, bring fido to the dog beach for a swim in the chesapeake bay, get into the park FREE! http://www.aacounty.org/RecParks/parks/downs/index.cfm
Anne Arundel County Spring Crafts Festival April 25 & 26 look for my blue tent in the outdoor Midway at the A A Co. Fairgrounds, Generals Hwy, Crownsvillle http://www.aacountyfair.org/
Baltimore Farmers' Market Sundays (to be announced here) beginning May 3rd to December 20th under the Jones Falls Expressway, Saratoga between Holliday & Gay Streets, 8am to noon. http://www.bop.org/index.cfm?page=events&id=3
Polish Festival at Patterson Park May 29,30,31 http://www.polishcommunity.com/ and http://www.bop.org/index.cfm?page=events&id=27
Columbia Indoor ArtPark Sat & Sun, June 13-14 Invitational Fine Arts and Crafts Show at Lakefest, Noon to 7PM, Columbia Festival of the Arts, look for my booth in the covered garage at Wincopin Circle below Copeland's Restaurant http://www.columbiafestival.com
Federal Hill Jazz & Blues Festival/Block Party June 28 http://www.historicfederalhill.org/www/docs/4
Highlandtown Art-ket at the Farmers' Market every Saturday 8AM to 12 noon, July through November, through Highlandtown Arts, ha http://www.highlandtown.com/highlandtown/web.nsf/ha!.html
ArtScape, July 17-19, 2009 Baltimore's Largest Free Arts Festival! http://www.artscape.org/
Album: ANNA'S PAINTED SCREENS
GO GREEN WITH A PAINTED SCREEN!
On nice days,
cut off that AC,
open up those windows,
show off your beautiful painted screens,
save energy,
save money,
and
reduce your carbon footprint.
Contemporary Screen Paintings for Your Home
Folk Art for Today's World
Go Green with a Painted Screen
Functional Clutter-Free Art
Custom pricing starting at $45+ per window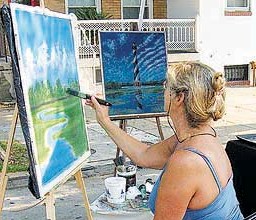 "YOU SEE OUT, BUT NO ONE SEES IN"
Functional mesh screen allows the breeze to pass through!
The magical painting is almost INVISIBLE from INSIDE YOUR HOME

too cool

For details, visit Anna's website at